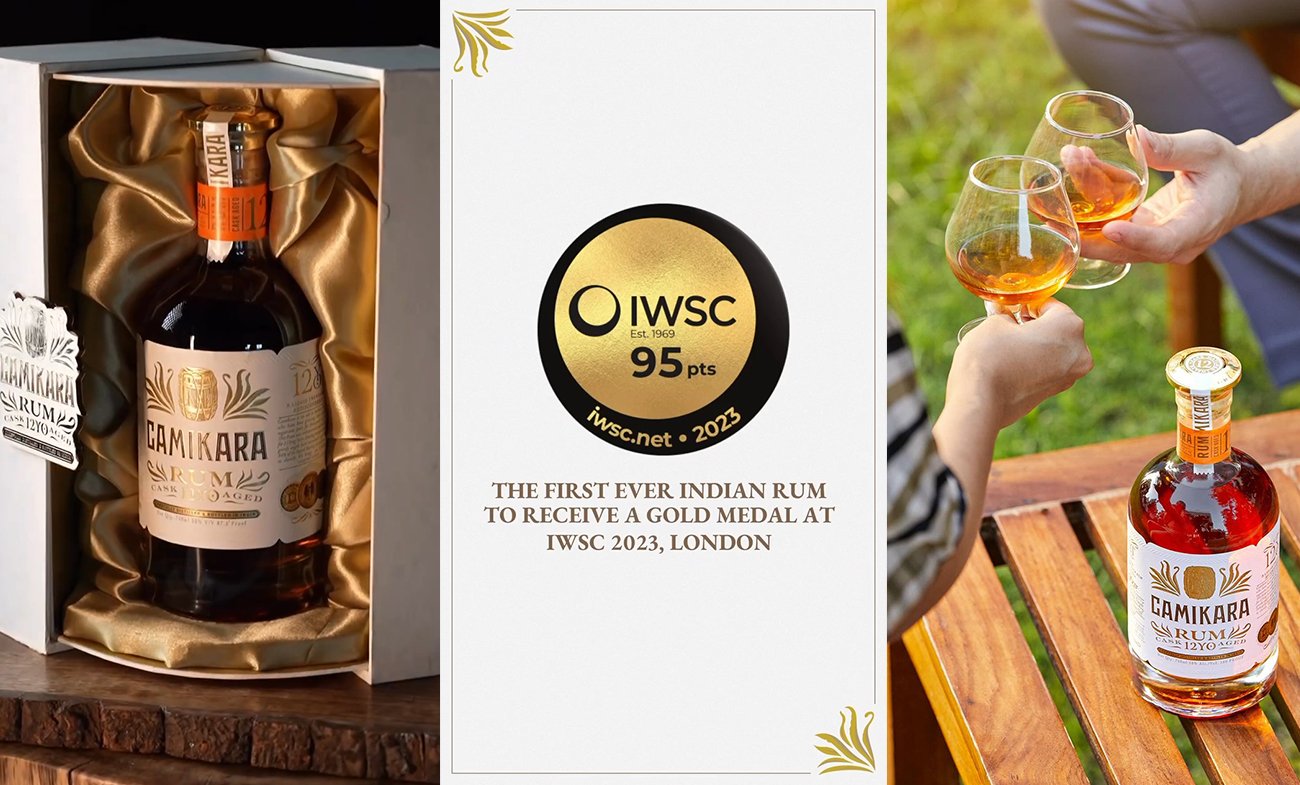 Camikara Makes India Proud Globally
~The First Indian Rum to Ever Win A Gold Medal at the Prestigious IWSC Awards 2023, With 95 Points.~
Piccadily Distilleries is proud to announce the first ever 'Gold Medal' to be won by an Indian rum at the prestigious IWSC Awards 2023, recently announced in London, for their newly launched rum – Camikara. It has been awarded the gold medal in the 11- to 15-year-old category, with a stunning 95 points.
Camikara is a small batch luxury sipping rum with mere 6.6% of the original filled quantity left to be savoured by us and the remaining 94.4 % evaporated as angels share, which makes it as one of its kind to be ever released to the consumer. It is the first pure cane juice 'sipping rum' to come from India, after being matured for twelve (12) long years in American oak barrels. Bottled at a strength of 50% ABV, Camikara has no added colour, caramel, sugar or flavours, making it a 100% natural rum.
India, the world's largest sugarcane producer, has never created a quality, luxury rum. Although there have been several brands available in the Indian market, they have always been at the entry level. A premium category rum capable of competing on a worldwide platform and making India proud has never been researched. 
Camikara is the proof that India can produce a premium quality rum with the abundant bounty of sugarcane available to us, complex yet smooth and is revolutionizing the rum industry in India and globally. Derived from the Sanskrit word for "liquid gold", Camikara rum is a celebration of land, time, culture and people. Camikara was born for two reasons: to rediscover the past; and to pave the way for the future. 
India has been a whisky dominant country, but the country is now gradually shifting towards a preference for rum since 2015, with a compound annual growth rate (CAGR) of -4.88%. During the period 2015 to 2020, the country's rum intake grew to a combined sales value of INR 1,47,597.29 million, dominated by the sales of entry level rum, but the luxury category still remains untapped.  India is expected to grow in its rum intake with the Indian market expected to increase the demand to 293.30ml by 2027 with a further annual growth of 5.75% (CAGR 2023-2027).
Piccadily Distilleries is pleased to announce that this is the first time in the history of India that an Indian rum has been the recipient of this award, making India proud on the international forefront. Speaking on the achievement, Mr. Siddhartha Sharma, Promoter, Piccadily Distilleries tells us, "We wish to break the shackles of the colonial mindset where we were browbeaten to prefer whisky over rum, where it was drilled into us that rum was cheap and harmful compared to whisky. Going with the philosophy of Piccadily distilleries, we have created something that stands testament to our land and time, unabashedly different to any global product. We wish that cane juice spirit will be seen in a different light with many more new age distillers championing the cause of Indian rums, creating a category which will be able to challenge any rum from any global region. Camikara treasures these accolades with a deep sense of appreciation for the discerning, appreciative consumers that have made this unrivalled win possible." 
By prioritizing quality above all else when it comes to producing this now iconic rum, the brand continues to expand this category, and is planning to launch different aged expressions of rum in the coming years, starting with a three-year aged pure cane juice rum for its supportive consumer base.
The well-deserved accolade shows that the indigenous rum has emerged as a worthy contender, and the world is awakening to the new star from India that is Camikara.
About Camikara:
Camikara is a one-of-a-kind beverage from the house of Piccadilly Distilleries, an exclusive limited-edition rum, aged to twelve (12) years, the first of its kind pure cane juice rum. Only 6% of the original stored liquid casked provided for 3600 bottles, with the rest 94% of the spirit becoming the angels' share. It is a sipping rum, best enjoyed neat, to discover the depth of its flavour and character. Aged in ex-bourbon, American oak barrels, 1200 bottles of Camikara have been allocated for the Indian market (at an approximate MSP of Rs. 6200). The rum is distilled in copper pot stills and bottled at a 50% ABV. The rum will only be available in Haryana and Goa in India.
About Piccadily Distilleries:
The Piccadily distillery group has three distilleries in the Northern part of India: Indri, Patiala and Bawal, and is India's largest independent malt manufacturer and retailer of malt spirits, with a production capacity of 12,000 litres per day, making it a 4 million litres distillery per annum.
The malt distillery at Indri is located off the famous Grand Trunk Road, set up in 2012. The distillery is home to 6 traditional copper pot stills (designed and made in India) and 40,000 barrels. The distillery is rapidly expanding its warehousing capacity to hold another 60,000 barrels. The extreme temperature of the Northern plains helps the malt spirit mature faster inside the barrels, leaving behind sweet tropical flavours and a rich natural colour. The distillery proudly uses no fossil fuels to generate its power needs.
Website: http://www.camikara.com/
Instagram at : https://www.instagram.com/camikararum/
About the International Wine and Spirits Competition:
The IWSC awards are more than a competition; it is a global wine and spirit community, focused on people and expertise. From the thousands of products that they receive, a blind tasting is conducted and judged basis their taste and aroma. Their mission is to champion the best wine and spirits from around the world by taking a personal approach to their partners' needs.